In the latter part of 2016 we were approached by the Electrical Industries Charity and invited to take part in their 2017 Valentines Charity Ball Event.
We are very pleased to be involved and help raise funds for this worthwhile cause.
Dance4Passion have five dancers taking part.  Two teachers from the school and three students, Ellen, Maria and Allison, who have all danced at competition level in the past.  We started training in November for our group danc
e (OMG) to kick of the demonstration.  There will also be three individual dances which are yet to be choreographed by the teachers, Frederico and Nuno.  We will keep you up to date on progress!
Tuesday 10th January 2017
First practice after the Christmas break and we are now working on our individual routines.
Maria & Nuno are doing thee most amazing Samba.   Maria is keeping up with Nuno, that girl deserves a medal……Nuno can be quite a bit crazy and quirky with his choreography…….but all is going well.
Allison & Freddie have decided to perform Allison's favourite dance of all time…….the Rumba…….the dance of LURV……which is packed full of extremely sensual moves.  This is proving to be extremely funny for the rest of us……watchi
ng Freddie & Allison (who are the best of friend) trying to perform a very serious dance.
Friday 13th January 2017
Ellen & Freddie had their first practice for the Tango on Friday night.  This is either going to go really well or its going to be a bloodbath…….Ellen is very opinionated and is constantly questioning Freddies moves.
Saturday 14th January 2017
The girls spent the majority of the night (over messenger) ordering dresses, shoes, jewellery and arranging one of our friends to give us all a makeover on the night. The boys on the other hand, went out for dinner with their friends!!!!  STRESS FREE…….
Tuesday 17th January 2017
Soooooo, more training, 4 hours in fact, after work, knackered………..what else can we say.  Freddie and Nuno are certainly putting us through our paces.  The steps are now coming together for our group dance and at last, its actually taking shape.
Maria and Nuno have now completed their routines and its just practice and working on technique…….Nuno's words……."Maria is getting crazzzeeee"………ha ha ha ha.
Ellen and Freddie….          Once more, Freddie has decided to change the steps………Ellen
is still opinionated………however……the routines are coming along just fine……with limited communication!
Friday 20th January 2017
Another 3 hour session of practice……the boys are now getting just a little fed up of listening to the girls chat about  shoes, dresses, earrings, nails, tans, eyelashes, makeup, big pants etc etc etc
Maria and Nuno, got straight into practice, every the professionals…….
For once it was Freddie who was being opinionated and asking Ellen when she was going to get her hair done…….REALLY!!  He then went on to change the steps of the routine one again…….REALLY!!
Tuesday 24th January 2017
Shoes have arrived and the dresses are tried on……at this rate and the amount of practice sessions….the dresses are going to be too big and have to altered…..something else for the girls to whinge about!!
Practice of the group dance is going very well……..and we (the girls) have decided that we should take on yet another routine…..our choice this time!!
Another late night….
Wednesday 25th January 2017
No dance practice tonight….but….Ellen thought she was going to have to get a stand in for Freddie as after his Wednesday class in Woodside Hall, Glasgow…….he decided to take a swallow dive down the stair and out on to the pavement, narrowly missing the lamp post still managing to hold his bag with his shoes and the music system…….talk about having balance!!
Thursday 26th January 2017
Off to Laurieston, Falkirk for some practice before class………new shoes and all!
Maria and Nuno are just bashing on with their practice which is really coming along quite nicely…..
Ellen and Freddie's routine……..Nuno took a video to check the timing and it turned out to be just perfect…….Freddie changed the routine AGAIN………..Ellen is now no longer opinionated…..but furious……and frustrated……
McDonalds on the way home………
Friday 27th January 2017
Yet another 3 hours of practice with new shoes and plasters for both the girls…….
Maria and Nuno are now working on their technique………Maria has been a dancer for many many years and, after 2 hours of dancing, Nuno decided to tell Maria that she was doing it all wrong……….ooohhhhh you silly Nuno……..guess wh
os being opinionated now!!
No need to tell you what happened to Ellen and Freddie………….yip, he changed the flaming routine…….A G A I N!!!!!
Whilst on our usual 30 minute chat outside in the cold after practice…….the first was mentioned about what the boys will be wearing………"just our usual dancewear" no stress there then…
Saturday 28th January 2017
After Freddie's cheeky comments about Ellen's hair, this has now been done and ticked off the list.
……..its snowing and the boys have arrived to get some work done regarding the Dance School……..
Freddie is straight into the kitchen producing dinner (3pm)
Nuno is straight to the dining table, glue out, shoes out and tweezers out.  His production is below…….WOW!!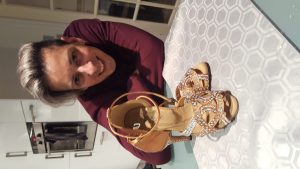 Maria…….eat your heart out………if your not fast, youre last!!!!  That's what you get for going off to the
Strictly Tour in Glasgow without us…….Freddie's tip on hips below Maria……let us know YOUR opinion?
Freddies production of Portuguese sausage went down a treat (6pm)
Ellen said to Freddie……"I really think we need to change the routine"  least said, soonest mended…you should have seen the expression on Freddie face …….RIGHT BACK AT YOU FRED!!!
Freddie still producing (can't call it cooking more like making a mess) in the kitchen……..Pork, mashed sweet potatoes, asparagus, red wine and Nuno now playing barman and producing the vodka……….mmmnnnnn!!! (9.04pm)
THE FINALE
Saturday 11th February 2017
So, the day has arrived……….and before anything moves…..Ellen has to dig herself out of the SNOW!!!!!
Freddie, Nuno and Ellen leave around 12noon……..arrive at the Grand Central Hotel, Glasgow for 2pm.  Check-in to our rooms and then the realization of the event hits us like a brick……well, it did for Ellen and Maria anyway.  The boys go off shopping…yes SHOPPING!!!! and leave us girls to stress out and get our makeup done by the lovely Ann Marie Harper…….
5pm and we head down to the ballroom for our final rehearsal.  With that done, we head on back up to our rooms for the boys to have their make-up done…..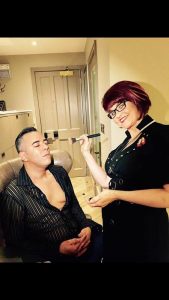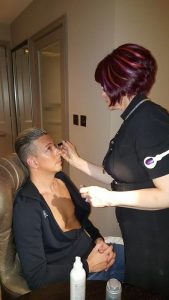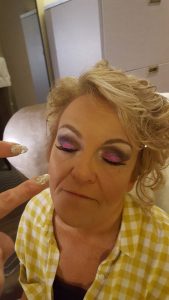 On to the dancing!!!
Nuno & Maria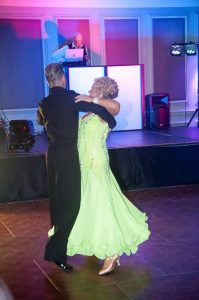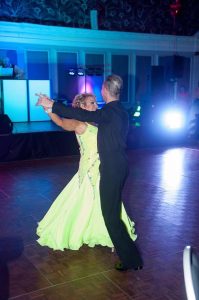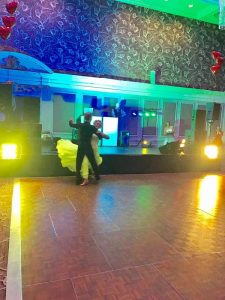 Freddie & Ellen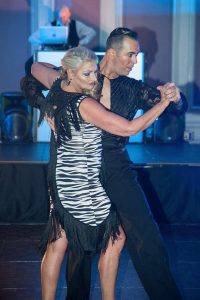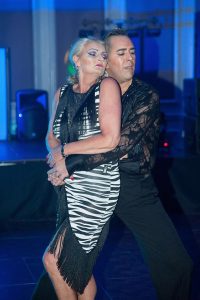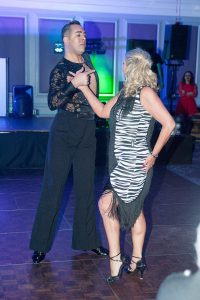 Viennesse Waltz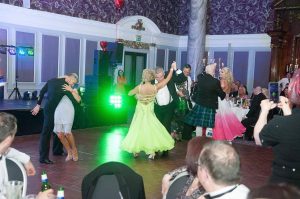 Dance4Passion Team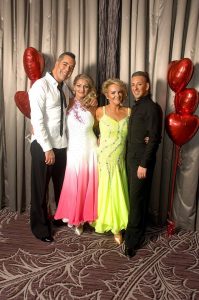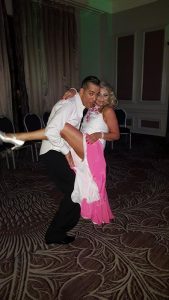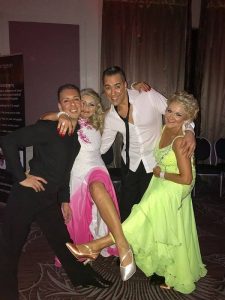 The Dances
After Party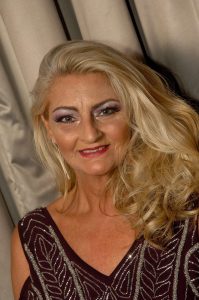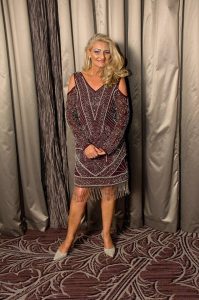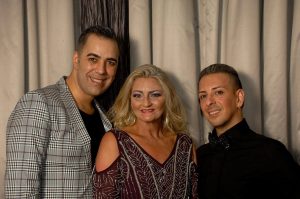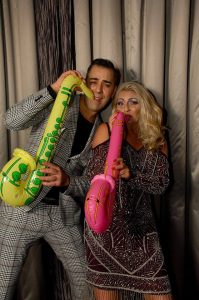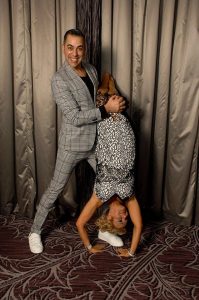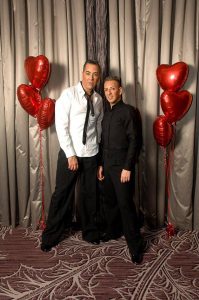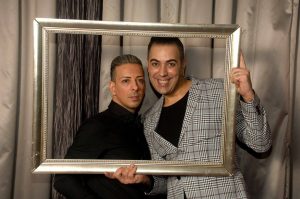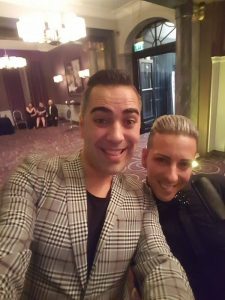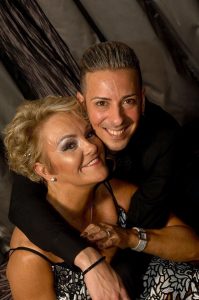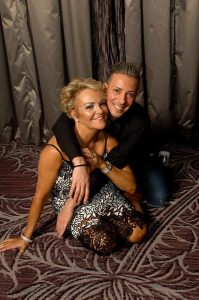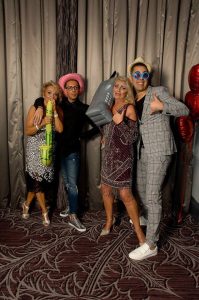 WE SURVIVED……….till the next time……….xx